Munich – October 2019: Munich based investment banking boutique Blue Tree Group is pleased to announce that it acted as financial advisor to the integrated social media company The Social Chain Group AG.
As part of this process, Blue Tree Group consolidated the company's structure to fund the holding company The Social Chain Group AG whilst successfully completing its capital increase. Blue Tree Group has conducted company valuations for numerous firms from different sectors, i.e. social media and consumer products. Blue Tree Group's company valuations were further used in the process of the merger which took place through the contribution of all shares of The Social Chain Group AG as a non-cash capital increase at Lumaland AG. This process was completed on 9 October 2019 resulting in the newly merged company The Social Chain AG.
This is Blue Tree Group's third completed valuation project in the Technology /Media/ Telecommunications (TMT) sector in 2019, underlining Blue Tree Group's expertise in these areas.
"Blue Tree Group's company valuation experience and its in depth media expertise smoothed the path to complete the process effectively in a short time frame." comments Dr. Georg Kofler.
Dr. Michael Daldrup: "The project's complexity in terms of a tight time schedule on one hand and the enormous diversity of different media businesses on the other was quite challenging. It was great fun to work with the team of the Social Chain Group on financial and strategic aspects. The TMT team of Blue Tree Group felt thrilled to have contributed to the success of such a fantastic venture."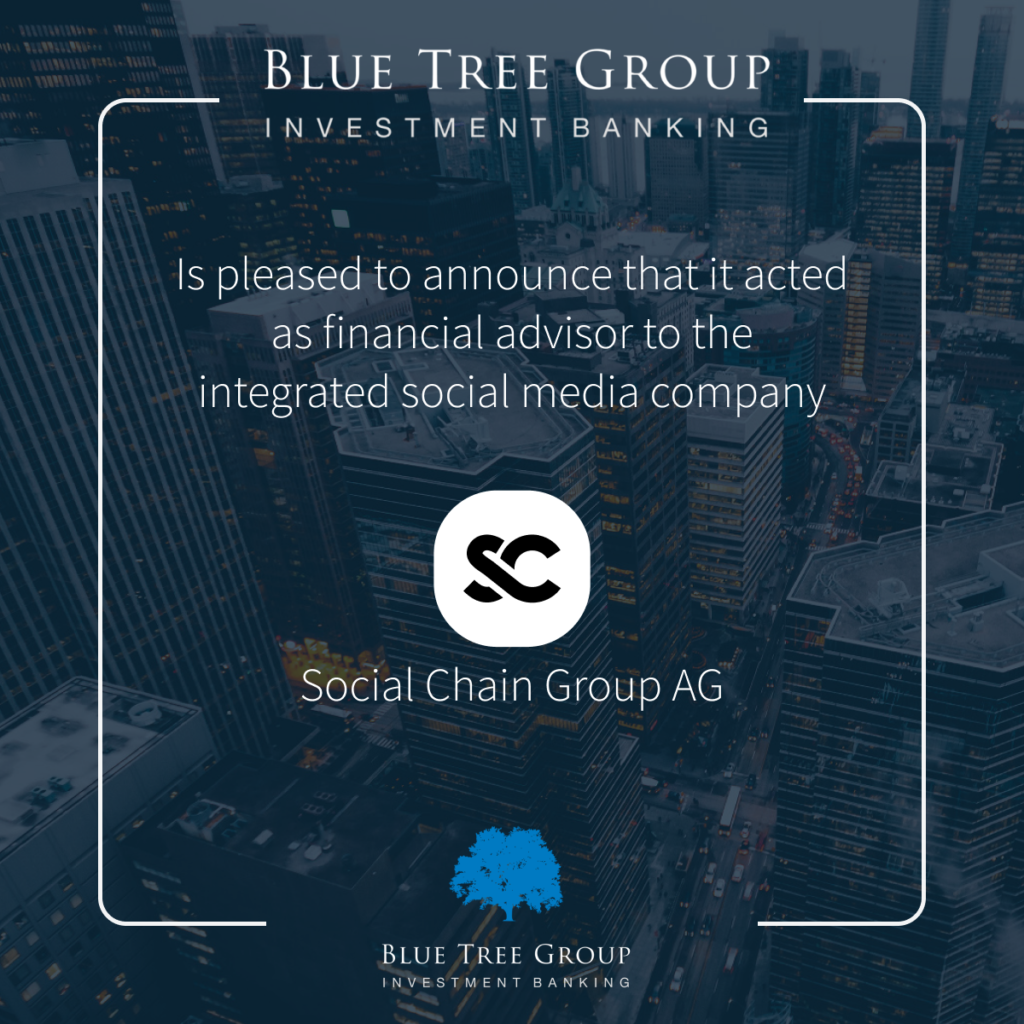 The Social Chain AG
The first integrated social media company THE SOCIAL CHAIN AG combines social media and social commerce. SOCIAL CHAIN is a pioneer in the creation, development and scaling of social media brands. The company's headquarters are in Berlin with further offices in Manchester, London, New York and Munich. The company has a total of around 500 employees. The shares of SOCIAL CHAIN AG are traded on XETRA and on the Düsseldorf Stock Exchange.
More information under www.socialchain.com

Blue Tree Group
Blue Tree Group is an investment banking boutique focused on m&a and financing advisory services for mid-sized and fast-growing companies in the German-speaking as well as Benelux regions. As part of the investment banking business, Blue Tree Group also acts as an underwriter in selected financial transactions and invest along with its clients in principal investment opportunities.